Construction Update
We are happy to report as of January 14th 2017 the inside walls of the building are now complete except for the upstairs. The kitchen and serving area are on the north end in the middle of the building, bathrooms are on the northeast corner with class rooms on both sides. Plans have been made to start installing the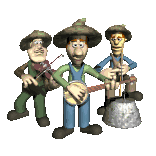 electrical wiring and the upstairs duct work. Plans are to start the south end where the pulpit and platform will be located. Donations have allowed for the purchase of the wire and the electrical boxes. The walls will be completed with barn siding donated by folks in the community. The men of the church will begin dismantling a barn in the local area for the barn siding and the tin to be used around the kitchen and serving area. The pastor and the congregation invite everyone to come and see what GOD is doing at Just As I Am Cowboy Church. All are welcome.
Upon completion of the building the church will be hosting a one day revival complete with music, meal and preaching. Plans are being made for October 2017. We will be posting more information as the time gets closer. If you or someone you know would like to be involved in the revival, please leave a comment or call Gene Arnett at: 573-819-5095.
The Just As I Am Cowboy Church will continue meeting in the community building behind the Paris City Office until the completion of the new building. Meeting times are Thursday evening meal at 6:00 pm, service at 7:00 pm and Sunday morning 9:30 am, Sunday School 10:30 am service. All are welcome.